With his unique sound and fashion sense, Playboi Carti has become one of the most influential rappers in the rap game today. His style is as electrifying and inspiring as his music, so let's take a look at some of The 10 Best Playboi Carti Outfits! We'll explore his diverse range of looks—from high-end designer brands to streetwear staples and everything in between. With this article, we'll provide plenty of ideas for how you can add some extra swagger to your wardrobe. So if you're looking for inspiration on dressing like Playboi Carti or just want to freshen up your style, keep reading!
Off-White Fall/Winter 2019 Runway Show:
Playboi Carti was chosen to walk the runway for Virgil Abloh's Off-White label, at their Fall/Winter 2019 show. Showcasing the "Ruined Factory" knit sweater and green wool tailored trousers, Carti modeled a look that embodied everything from Off-White's "Public Television" collection; including a pair of ODSY-1000 sneakers.
Devil Horns:
Playboi Carti decided to don devil horns as an accessory for this "whole lotta red" fit. Matched with a red denim jacket and Rick Owens jeans. This outfit definitely made a statement and showcased Carti's bold style.
Band Tees and Sunglasses:
This photograph displays him at the Fall Festival, in Australia back in January 2020. Although his outfit was minimalistic with jeans and a band tee, we can still identify he has an adoration for rock music from Black Sabbath shown off here. But what truly elevates this look is that flamboyant pair of sunglasses to inject some personality into an otherwise basic ensemble!
Balenciaga:
Playboi Carti wore a full Balenciaga look to a Balenciaga show in July of 2022. This wouldn't be so out of the ordinary in itself but he also decided to go crazy with the makeup to look kinda like a high-fashion clown. This look definitely broke the internet for a few days.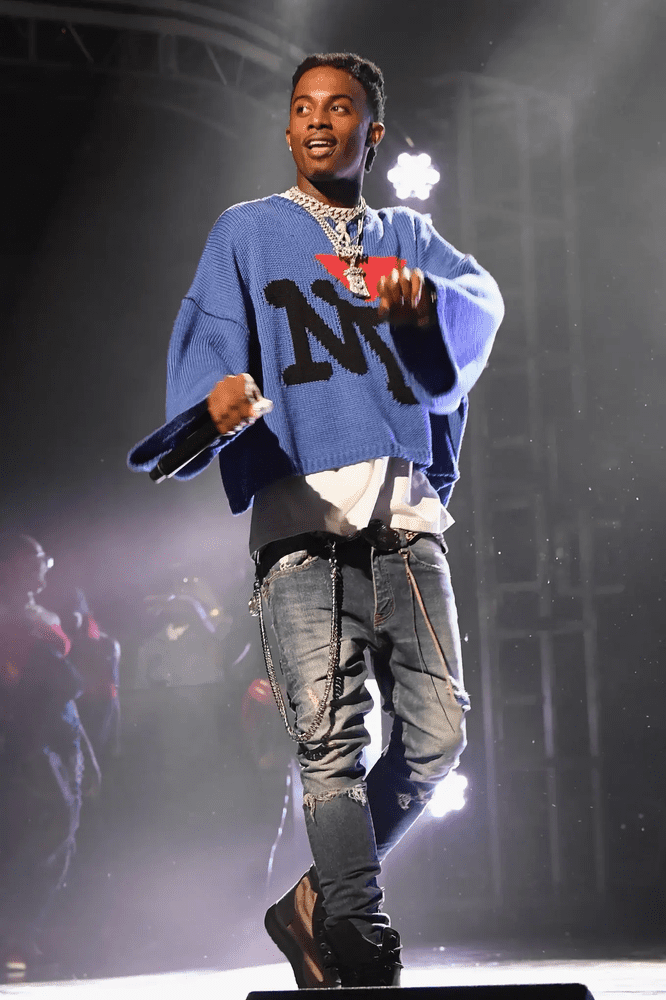 BET Hip Hop Awards:
Playboi Carti made an appearance dressed to the nines in a Raf Simons "I Love NY" sweater from his Fall/Winter 2017 collection, Mastermind Japan denim jeans, and Yeezy Season 5 suede military boots. Though he didn't take home any awards that night, we know his outfit would be the winner of best dressed in any category that night.
Lowkey Designer:
Ok, the only thing low-key about this outfit is you can't see his face. Playboi Carti mixed pieces from Balenciaga, Vetements, and Rick Owens to create this baggy military-inspired fit. Also, thanks to the $7k Balenciaga coat and the $2k Rick Owens boots this outfit would cost you a cool $10k to replicate. n
So like I said, Lowkey.
50 Shades Of Black:
It wouldn't be a list of Playboi Carti outfits without a full black ensemble. You can't go wrong with a leather jacket, waxed denim, and black sneakers and Carti seems to do it better than anyone.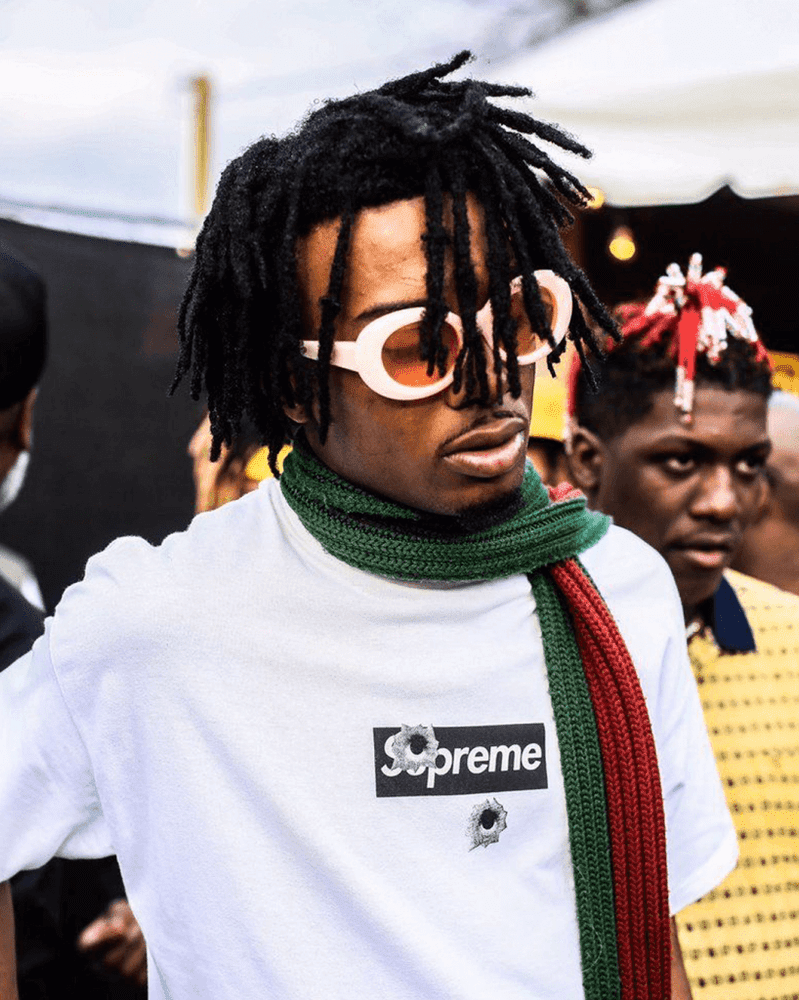 Supreme Team:
Over time, Playboi Carti's fashion sense has changed drastically; however, his undying loyalty to Supreme remains. Even at the beginning of his journey in style and apparel, you can see him rocking a plethora of streetwear brands yet always opting for Supreme when making an impactful statement.
Wireless Festival:
Another iconic outfit from Playboi Carti is this high-fashion gothic look from the 2022 Wireless Festival. Black nail polish, eyeliner, and a gold grill really make this look something special.
Plaid Overcoat:
Plaid and punk have a fascinating history. During the 1970s, Vivienne Westwood dressed The Clash and The Sex Pistols in tartan suits as an act of rebellion against the upper classes. It is likely that Playboi Carti was aware of this when he stepped out wearing a plaid trenchcoat by Off-White™ during Paris Fashion Week, accessorized with clout goggles to complete his look – a trend popularized by him and Lil Yachty at the time.
How You Can Dress Like Playboi Carti:
Playboi Carti's fashion is a mix of streetwear, high-end designer brands, and punk influences. If you want to dress like Carti, look for some statement pieces such as graphic tees, hoodies, and jackets. These can be layered with basics like denim jeans or trousers. Finish off the look with bold accessories like sunglasses, designer bags, and jewelry.
Summary
There you have it – The 10 Best Playboi Carti Outfits! You can take inspiration from these looks to create your own unique style that's sure to make a statement. Whether you opt for high-end designer pieces or streetwear staples, play around with different fabrics, textures, sizes, and colors to achieve the perfect look. Don't be afraid to break conventions and play with your style – Playboi Carti is a testament to this!