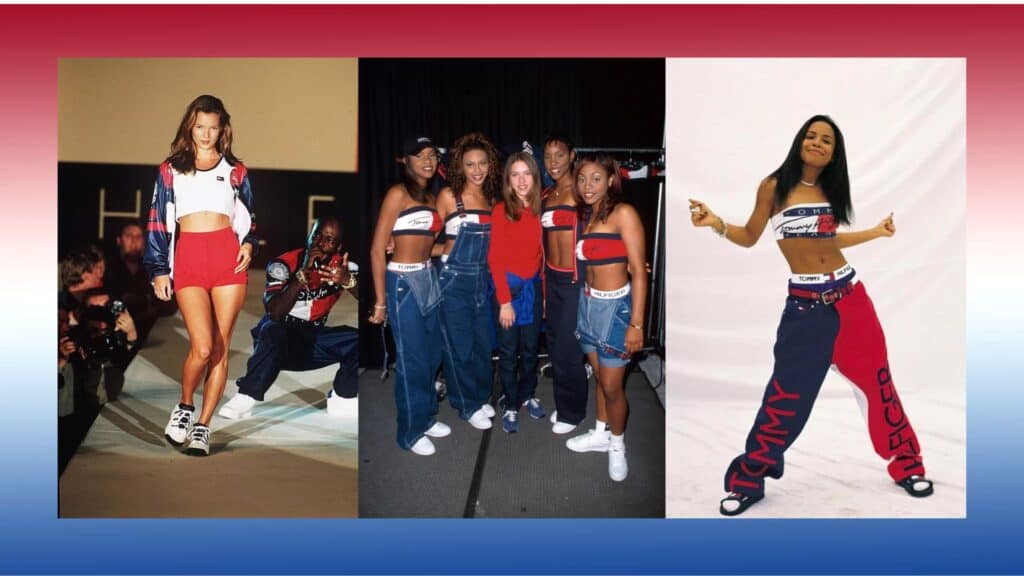 Tommy Hilfiger was one of the most influential fashion designers of the 90s. His bold designs revolutionized fashion and made Tommy Hilfiger one of the leading forces on the runway during this era. From his signature red, white, and blue color palette to his memorable runway shows, Tommy Hilfiger's iconic style has stood the test of time. In this article, we'll take a look back at some of Tommy Hilfiger's best fashion moments from the 90s. We'll explore which collections were most successful and discuss which styles have become timeless classics for modern-day wardrobe staples.
The 90s: Tommy Hilfiger's rise to fame
Tommy Hilfiger hit the ground running in the 90s with the company going public in 1992. His collections featured classic American sportswear with a modern twist, utilizing Tommy Hilfiger's signature colors and bold designs. Tommy Hilfiger quickly rose to fame and was a significant player in the fashion scene of the 90s.
Iconic 90s Looks by Tommy Hilfiger
Below are some of the most iconic looks from Tommy Hilfiger's 90s collections.
Red, white, and blue color scheme
Tommy Hilfiger is famous for his signature red, white, and blue palette. He used this to great effect in his 90s collections, creating bold and eye-catching pieces that were both fashionable and timeless.
The classic Tommy Hilfiger logo
Another iconic Tommy Hilfiger look from the 90s was his classic logo. This logo, with the Tommy Hilfiger name in white lettering on a navy blue background, was featured prominently on many of his most popular pieces.
Tommy Hilfiger denim: the perfect 90s staple
Tommy Hilfiger's denim line was a major hit in the 90s, featuring pieces like distressed jeans, jean jackets, and overalls. These styles remain popular today and are a must-have for any 90s-inspired wardrobe.
Puffy Tommy Coats
Another Tommy Hilfiger style that was big in the 90s was his puffy Tommy coats. These oversized jackets were perfect for keeping warm during the cold winter months and are still a popular choice today.
The Tommy Tube Top
The Tommy Tube Top was an iconic 90s look that Tommy Hilfiger popularized. This sleeveless top featured a bright, bold pattern and became one of Tommy Hilfiger's most recognizable pieces from the era.
Hilfiger Overalls
Tommy Hilfiger overalls were a hot item in the 90s, featuring Tommy Hilfiger's signature red, white, and blue color scheme. These timeless pieces are still popular today with those looking for a classic 90s-inspired look.
Tommy Hilfiger's Celebrity Collaborations
Tommy Hilfiger has experienced many triumphs through his collaborations with celebrities, especially in the 1990s. His fashion style resonated within the "preppy" American scene and as hip-hop attire. When Aaliyah stepped into the spotlight as Tommy Hilfiger Corporation's iconic spokesperson, she left an indelible mark on fashion history.
Tommy Hilfiger has always been a devoted fan of rock and roll. His collections are often inspired by music-based subcultures and he frequently works with the music industry to promote his clothing line. In 1993, for example, Hilfiger served as an official sponsor of Pete Townshend's Psychoderelict tour. Additionally, in 1997 he was the main sponsor for Sheryl Crow's If It Makes You Happy Tour; plus Britney Spears' …Baby One More Time Tour (1999); and Lenny Kravitz's Freedom tour (also 1999).
Tommy Hilfiger's Legacy
Tommy Hilfiger's bold colors, classic designs, and signature style have become timeless staples in fashion. His most successful collections from the 90s remain popular to this day, and Tommy Hilfiger continues to be a major player on the runway. Tommy Hilfiger has truly left an indelible mark on the fashion world and his legacy will continue for years to come.
Take Us Back To The 90s
Tommy Hilfiger was a major force in the fashion world during the 90s. His signature looks, collaborations with celebrities, and timeless designs have made Tommy Hilfiger's fashion legacy one that has stood the test of time. Tommy Hilfiger is proof that styles from decades past can still be relevant today with the recent resurgence of 90s Tommy Hilfiger outfits. So if you're looking for a blast from the past, Tommy Hilfiger's 90s collections are sure to take you back.