The men's fashion landscape is constantly evolving due to the advent of new-age social media platforms. The times of narrow fitting and minimalism are done and gone; the current buzzword in business is "aesthetic."
Sweater vests, which were formerly considered an older man's apparel piece, are now leading the push of stylish retro wear.
These vests are quite adaptable and serve a very practical purpose – keeping your body warm but your outfit cool — the ideal layering piece when the weather is cool but not quite cold enough for a fuller sweater or coat.
Styling sweater vests is also not difficult. It's a timeless aesthetic, so you won't have to worry about not being able to wear this year's purchases the following year.
This article will look at a few alternative ways to wear a sweater vest while keeping you stylish and cozy.
What Sweater Vests Say To The World
The sweater vest is notorious for having a poor image. Not only is it the clothing we strongly connect with our grandpas, but the television characters, usually portrayed as nerds or geeks, usually seem to be sporting an unusual array of sweater vests. Thankfully, in recent years, well-known designers have transformed the once-outdated garment into the chic and important component of winter and fall layering that it should have always been.
Men's sweater vests are likely cooler than you first thought. The sweater vest, similar to some eyeglasses, exudes an aura of refinement in many styles, creating the impression that the wearer is an intellectual and conventional man. The sweater vest is typically thought to have a "preppy" vibe. When you wear a sweater vest over a button-up or T-shirt instead of just wearing them alone, you not only get to show off your sense of style but also receive extra warmth.
You will also be able to express yourself through the particulars of the vest itself. If you want to show that you adore fashion but aren't ready to commit to the bold colors or the most recent trends, choosing basic colors or a solid neutral hue is a safe bet. If you want to stand out, then you can pick a sweater vest from brands like Marni which love their crazy materials and patterns.
The Basics Of Wearing Your Sweater Vest
The proper way to wear a sweater vest may give your outfit just the right amount of polish and sophistication.
The Workday To The Weekend
Keep your colors simple and subtle if you're working your nine to five. The weekends and evenings are perfect times for creative efforts.
Consider pairing a patterned vest with a chambray shirt and a white crewneck t-shirt for a style reminiscent of business attire. In addition, if you want to appear thinner, wear a black vest with a light shirt rather than the other way around. Your shoulders and arms will get all the focus, while your torso will appear to be thinner as a result.
Keep It Age-Appropriate
The fact that sweater vests are intrinsically out of date is uncontested. The combination of a charcoal sweater vest and a white dress shirt never goes out of style. However, it cannot be considered youthful. If you want to give the impression that you are younger than you are, you should wear a shirt with checks or plaids and not be afraid to accessorize it with a tie or bow tie.
Dressing It Up or Dressing It Down
Sweater vests are quite acceptable in any setting. Thinner, fine gauge sweater vests are dressier. Varieties with increased chunkiness are considered more casual. You can wear a vest of finer gauge with a shirt layered underneath a suit or jacket, or you can wear a dressier vest with a more casual shirt.
Remember that you need to watch out for the tails of the shirt if you want to wear it untucked. It's great to have some of your shirts exposed at the bottom of your pants. Anything beyond that seems unstructured.
Find The Right Fit
If it's too tight, you appear like a sausage casing. If it's too huge, you appear clumpy. This is where most people make a mistake: if a sweater is too big for the wearer, it will gather at the edges and add inches to the waist.
The ideal match? You will have sufficient space to move around without feeling restricted, but not so much space that the armholes bulge and the waistline sags.
Expanding Your Style By Bending The Rules
Here are some ways to style up your sweater vests in more stylish and surprising ways.
Try Layering Patterns on Patterns
It takes a lot of courage to wear a multicolored, furry, patchwork sweater vest out. Despite this, even those who aren't easily swayed by color could discover that their first inclination, when confronted with a piece with eye-catching patterns on patterns, is to put something simple and understated on top of it.
Take a risk and go for a cohesive yet modern design by doubling down on a theme close to the one you already have. Note that if you wear sleeved knits, you can still get a beautiful look by balancing out the Deep-V neckline by wearing a polo neck below.
Sometimes All You Need Is A Plain Tee
We would like to introduce this more approachable choice to fashionistas who are less willing to take risks with their outfits and are tentatively testing the waters of the trend.
You would be in a stylish company if you gave the more modern method of layering a vest over a short-sleeved T-shirt a go. Big names like Ryan Gosling and Tyler the Creator have already approved this look, so if you gave it a try, you would follow in their footsteps.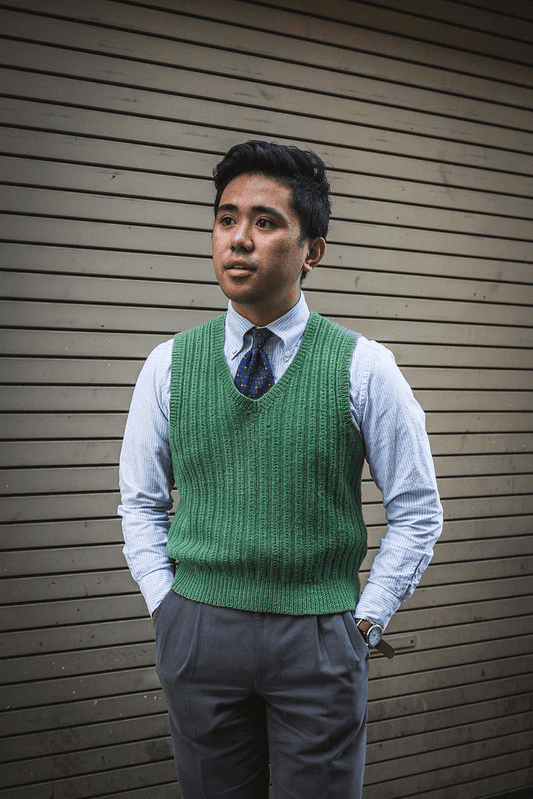 Go, Full Nerd
The fear that they will appear to be dorks is the primary factor that prevents the majority of guys from wearing sweater vests.
You can choose to showcase your inner geek by dressing in a way that is completely buttoned up and tucked in. Find a tie that shines out and make it the center focus of your ensemble by choosing a vest that is subtle in color and does not have any frills or embellishments on it. The only thing that would significantly improve at this point would be a pair of limited-edition statement sneakers. This would make it very evident that you are, in fact, one of the cool kids.
Layering Tips and Tricks To Make You Look Good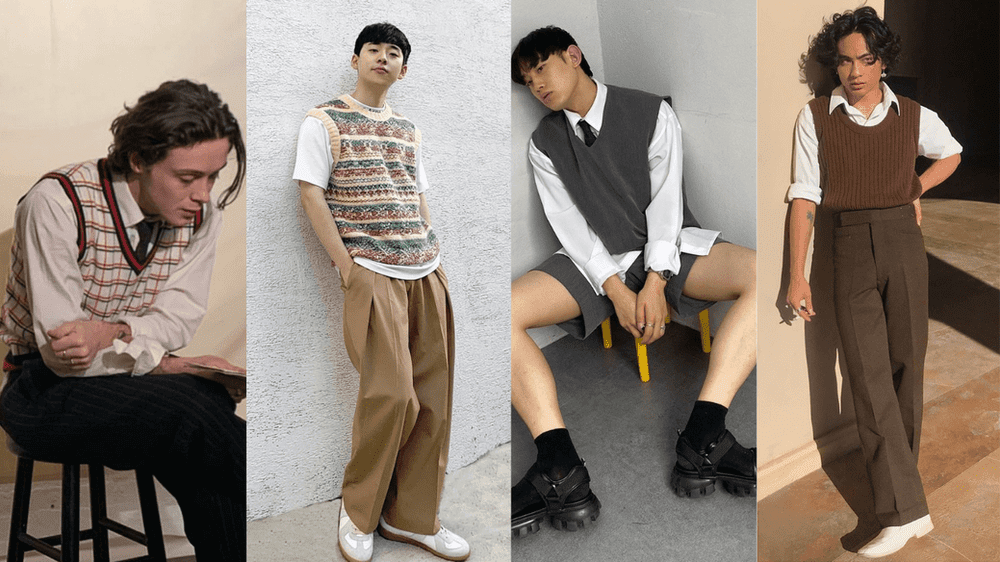 As with other aspects of fashion, there are some principles to follow while wearing multiple layers. We refer to these as "rules," but you should consider them "best practices" since you can break them.
When putting up a layered design, it's crucial to have a solid understanding of these best practices, even if it's not required to follow them all the time.
Tip #1: Layer In An Order
You would generally want to wear lighter and thinner garments closer to your body and bulkier and denser fabrics farther away.
For instance, you could wear a woven cotton button-down shirt under a merino wool sweater and then top off your outfit with a thick wool-cashmere topcoat.
Here is another example: Field Jacket < Quilted Vest < Henley Shirt
The shirt is made of thin material, while the vest is made of a thicker, more durable fabric. The jacket is the heaviest and thickest piece of this outfit, worn the farthest away from the body.
This principle is pretty easy to understand and usually follows itself. For example, you wouldn't wear a heavy wool sweater under a cotton dress shirt, correct?
Tip #2: The Maximum is Three
When it comes to layering, three seem to work best. Anything more than that is usually too much, making you look bulky and stuffed. Also, if you wear too many layers, you might get too hot and lose your ability to move around.
Remember that two is great, three is just right, and four is too much.
Tip #3: Lights First, Darks Later
Most outfits with layers are made up of more than one color. How do you make an awesome layered look with different colors? With this recipe, you can't go wrong:
Wear lighter colors close to your body and darker colors further away (outer layers).
Remember that this is just a general rule that you can easily break. For example, you can wear a camel topcoat over a navy suit. You'll never go wrong by adhering to this guideline, especially if you remember the next one.
Tip #4: Each Visible Layer Should Be Able To Stand On Its Own
Visible layers are the most important thing here. Your undershirt can be as cheap and thin as you want, as long as no one can see it.
In your closet, you undoubtedly have a designated area for clothes you can only wear with a sweater on. Perhaps the sleeves are too long, or the body is too baggy.
The problem is, what do you do if you need to take off your sweater? Suppose you are too overheated or someone spills their beverage on you.
When putting your outfit together, ensure each layer can stand alone. You must make sure that it looks good with the rest of your attire.