The deadstock Air Jordan 1 is the holy grail of all sneakers and is often regarded as the most important sneaker in basketball and streetwear history. Released in 1985, it was Michael Jordan's first signature sneaker.
Almost 40 years later, the Air Jordan 1 is more popular than ever. With hundreds of colorways available, the Jordan 1 Breds, Royals, and Shadows are still the holy grails. But it doesn't stop there, Jordan has made it a mission to create exclusive and rare pairs that can cost thousands of dollars in the secondary market like the Travis Scott 1s and the Fragment 1s for example. Now you don't need to be a celebrity or a basketball star to rock a pair of these sneakers. If you are reading this article you most likely have a pair in your closet or you're close to pulling the trigger on your first Jordan 1. Other than getting a pair at a reasonable price, how to style Jordan 1 sneakers is the next hardest thing. This article will walk you through how to correctly incorporate a pair of Air Jordan 1s in your fit that will be Instagram-worthy.
Picking The Right Jordan 1
With hundreds of colorways, collaborations, and the Jordan 1 silhouette coming in high, mid, and low models, you don't have a problem with not having enough options.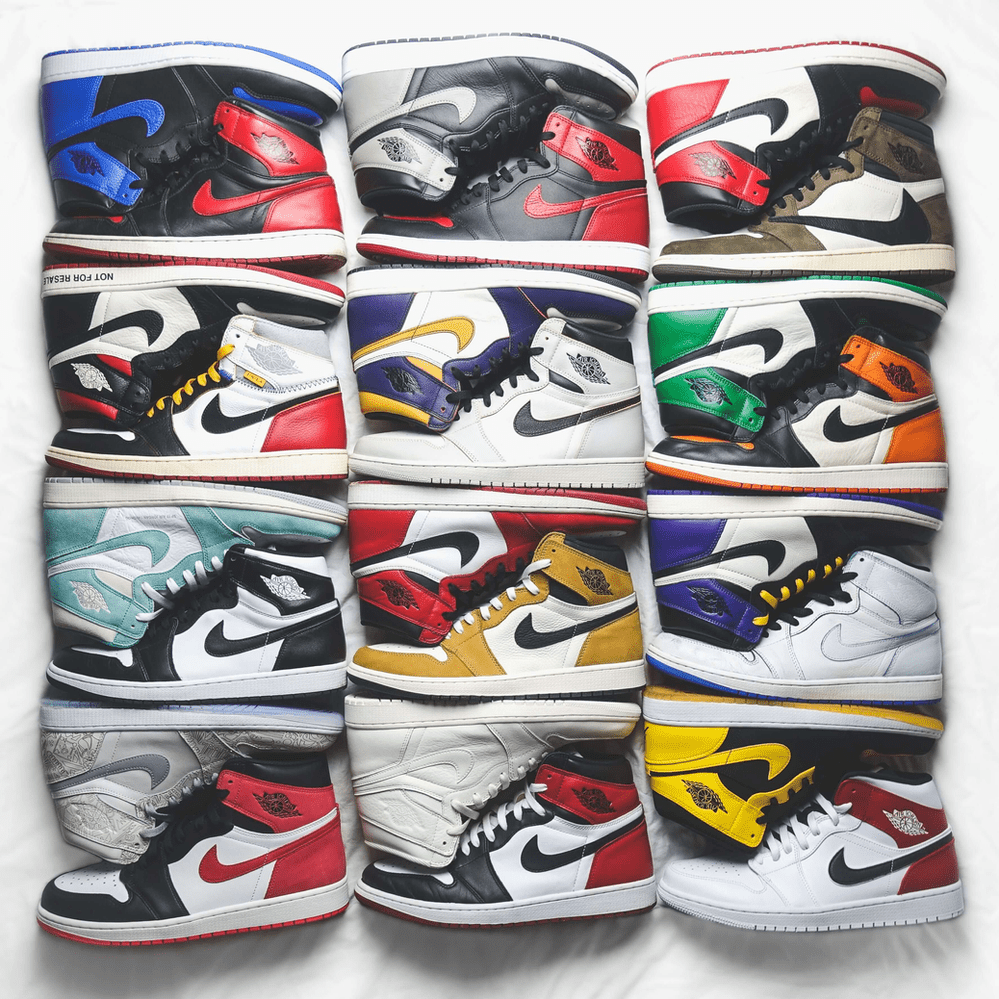 Colors
OG colorways have been and will most likely be the most popular and only reasonable option for many sneakerheads because of their historical significance. An Air Jordan "OG" colorway means that they are a shoe that Michael Jordan wore during his games or Nike advertisements, like the Breds or Royals. Now there are plenty of new and solid colorways to choose from, so I would recommend expanding your horizons, even if they are not "OG". Selecting a color should be based on what you like and what fits your style the best. Do you wear lots of black and gray? Pick the Shadows. Do you like a clean vintage look? Pick the 85 Neutral Grays (a personal favorite, they go with everything!). Or do you want something new with a hint of color? Pick the Obsidians that were released in 2019. Or if you like to mix things up then get all three. There is no limit to how many Jordan 1s you can own (other than your bank account saying so).
Highs, Mids, Lows?
Jordan 1 Highs will forever be the most popular and sought-after silhouette in the family by far. But, recently Jordan brand has expanded the 1s silhouette and added in mids and lows to accommodate everyone's style. Lows are a great option for shorts or summer fits and even have collaborations with artists like Travis Scott (his lows will set you back $1k or more). Mids on the other hand are great for anybody not wanting to drop $300+ on a pair of Highs. They have a similar look to the highs and cost a fraction less too. Plus, they come in many of the same colorways, so you will have plenty of options to choose from just like the Jordan 1 Highs.
Collaborations
Sneakers have forever been part of the fabric of streetwear culture. Starting with RUN DMC and Michael Jordan, almost every A-list celebrity in music and sports has been part of some sneaker collaboration in their career. Many sneakerheads love collaborations because they either represent their favorite artists or athletes, want to own a piece of sneaker history or get caught up in the hype (for good reason). In the past, we have seen collaborations with artists like Drake, Travis Scott, and J Balvin. Even athletes like New York Yankees legend Derek Jeter have a Jordan 1 collaboration.
Fit
Jordan 1s were made for performance on the basketball court, therefore they fit narrow to the foot for maximum support. They do run very true to size, but if you do have a wider foot I would suggest sizing up half a size. If you are not sure, see if you can find a store around your area that will let you try on a pair. Many resale stores will not let you try on sneakers due to the resale value of many Jordan 1s, so calling up some Footlockers or Nike stores will be your best bet.
Styling Jordan 1s
Jordan 1s are a versatile shoe that can look great with jeans, shorts, or suits with the right styling, and sure, you might even lace them up for the basketball court.
Streetwear Styling
Maybe the most popular way to style a pair of Jordan 1s is for your streetwear fit. Let's start by mentioning that you need to wear the right pair of pants. Too skinny of jeans, your Jordan 1s start to look like clown shoes. Too baggy? Then you start to look like Michael Jordan (Other than his sneakers, he is not much of a style icon). I would suggest a nice pair of tapered pants or jeans. For the perfect look, it is optimal for the hem of the pants to sit right on the tongue of the sneakers or to bunch up behind the tongue. This is such a classic look and I might even dare to say it will never go out of style. It just looks that good.
Shorts
Jordan 1s are a great choice for a summer shoe. When it comes to styling Jordan 1s in the summertime, it is all about the socks. Yes, the socks. I would say the safest bet is just to grab some long Nike crew socks and call it a day. Or you can get long socks with no logo at all for a low-key look. Things not to do are wearing socks that are branded other than Nike or Jordan (please don't wear Adidas socks with Jordans for the sake of the fashion police). Also, don't wear no-show socks either. It just doesn't look right. You are supposed to be breaking ankles in Jordan 1s, not showing them.
Suits
Something that I have grown to love is sneakers with suits. Especially Jordan 1s. Back in the day, a classic gentleman would wear a derby, loafer, or oxford with their suit and it would never look bad. Even though those are still the go-to option for dressing up. Thanks to athletes and ESPN analysts, rocking a pair of Jordans 1s has never been more classy. The same goes for suits as wearing them on the street, it is all about the fit of the pants. Don't go skinny or baggy with dress pants. Get them tailored if you need to, but your slacks should rest right on the tongue for a sweet business casual look.
On the Court
Yes, where these shoes are made to shine! Rocking them on the court is super easy, lace them up, wear some matching socks and proceed to drop 50 points like prime MJ. Or if you are more like me and go 3/22 from the field, at least you looked good doing it.
Just Do It
When it comes to sneakers and streetwear culture everyone has an opinion on what you should wear and how to wear it (basically this article), but at the end of the day, I always suggest wearing what you like and what makes you happy. Just like how the slogan goes, "Just Do It".