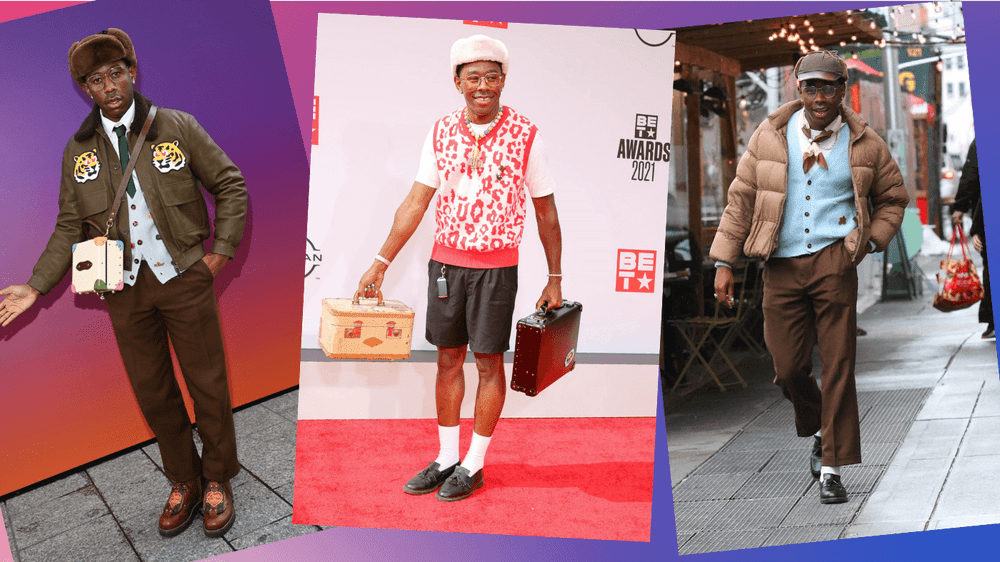 It has been over ten years since Tyler The Creator blew up in the rap scene with the release of Goblin in 2011. He was seen as sort of an outcast but also a trailblazer in edgy, grunge hip-hop music. While he grew as an artist and amassed a huge fan base since then, it's not only the music industry he has contributed to, he also is somewhat of a fashion Icon. Tyler The Creator is the founder and owner of his own fashion labels Golf Le Fleur and Golf Wang which has done collaborations with Lacoste and Levis, he was also the reason why Supreme and Vans skate shoes became so mainstream in the early 2010s. Throughout the years since then, his music and style have definitely been through somewhat of an evolution. He started with his iconic LA skater look and slowly transitioned into luxury fashion with hints of his skater roots and mid-century vintage modern looks. In this article, you'll learn how to dress like Tyler The Creator. As well as get some Tyler The Creator fit inspo. Let's get started!
The Look
Color
Tyler The Creator historically has never been shy to wear vibrant colors and bold patterns in almost every look. Whether it is yellows, light blues, or neon greens, Tyler seems to wear and rock any color he wants in his outfits. Recently he has taken more of a muted pastel color approach matched with browns, beiges, tans, and blacks to "color block" many of his styles.
Footwear
Tyler The Creator typically has 5 different styles for his footwear rotations. Starting with his skater persona he still rocks his low topped Vans skate shoes and high-top Converse sneakers. Next for the summertime, he can be seen rocking socks and sandals (typically a fashion no-no but Tyler The Creator can pull it off). Finally, for a more sophisticated look, he loves to wear Clarks Wallabees and Doc Martens.
Fit
Tyler The Creator never goes for too baggy or too skinny in any of his outfits. Every single garment he wears has a tailored fit that looks great on his personal physic. If you are going for the same look you might want to pick some of your favorite pieces and bring them to a professional tailor if they are too big and get them fitted to your own measurements. Typically this is quite cost-effective too! I just had a pair of Maison Margiela trousers fitted for only $20 and they look so much better.
Accessories
Accessories are what make or break an outfit and accessorizing is something the Tyler The Creator has perfected. Starting off with the headwear Tyler The Creator is usually seen rocking a five-panel snapback, or more recently an ushanka hat. For sunglasses, he likes his all-black, chunky framed, vintage styles. Next, his jewelry game consists of Ben Baller chains and pendants, diamond earrings and rings, and homemade beaded bracelets. Finally, for bags, he is seen with a designer shoulder strapped bag, or a thick briefcase filled with his personal belongings.
Clothing
Tyler The Creator has recently lightened up on the skatewear and gone a little bit more preppy. To start, no one rocks shorts better than Tyler, he often wears his above-knee shorts to perfection. For tops, he mixes in rugby shirts, vests, and cardigans. Lastly, for outerwear, he is often seen with puffer jackets and overcoats. It's also a good idea to get a tailored suit like the one he wore in EARFQUAKE, a chart-topping single from one of his latest albums IGOR.
Watches
Tyler The Creator wears both ends of the spectrum when it comes to wristwear. He either is rocking an $11 Casio Quartz MK24-9B or a vintage Cartier Obus Quadrant that will set you back around $10,000. As for watches he doesn't like, Tyler The Creator said in a 2021 interview that he finds Rolex watches boring and uninteresting, therefore save your money and go with the $11 Casio instead of the legendary Swiss watchmaker. If Tyler can make your grandpa's watch cool, then so can you.
Tyler's Best Fits
60th Annual Grammy Awards
Tyler arrived on the red carpet to make a statement, the boldest piece is his Louis Vuitton scarf matched with his baby blue Supreme overcoat. Next, for layers, he is wearing a Golf Le Fleur tee and a black pair of chinos. For footwear, he decided to rock some high-top converse which looks great, and lastly, for an accessory, he finished off the outfit with a soviet style Ushanka.
British Fashion Awards
When Tyler The Creator presented the Urban Luxe Award to Rhianna at the British Fashion Awards, he did it in style. He wore his own Golf Le Fleur x Lacoste varsity jacket, matched with a knitted sweater and his blinged-out Igor chain.
BET Awards 2021
Tyler The Creator on the red carpet never disappoints. He matched his red animal print sweater vest perfectly with his knee-high shorts. His long tube socks go great with his black gentleman loafers. This fit is a great example of a classy, vintage style that should be part of everyone's wardrobe.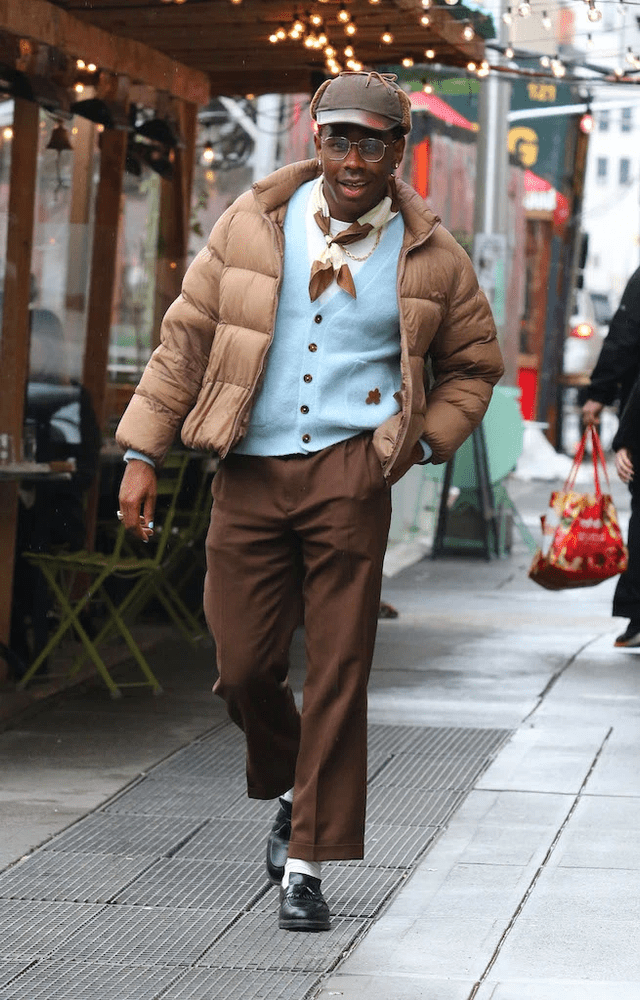 Sweater Weather
This next fit is perfect for those chilly days. Tyler wears a light brown puffer jacket over his bright blue cardigan with a classic scarf wrapped around his neck. Paired with dark brown chinos, black loafers, subtle but flashy jewelry, and a hunter's cap really makes this the perfect fall look for being on the go.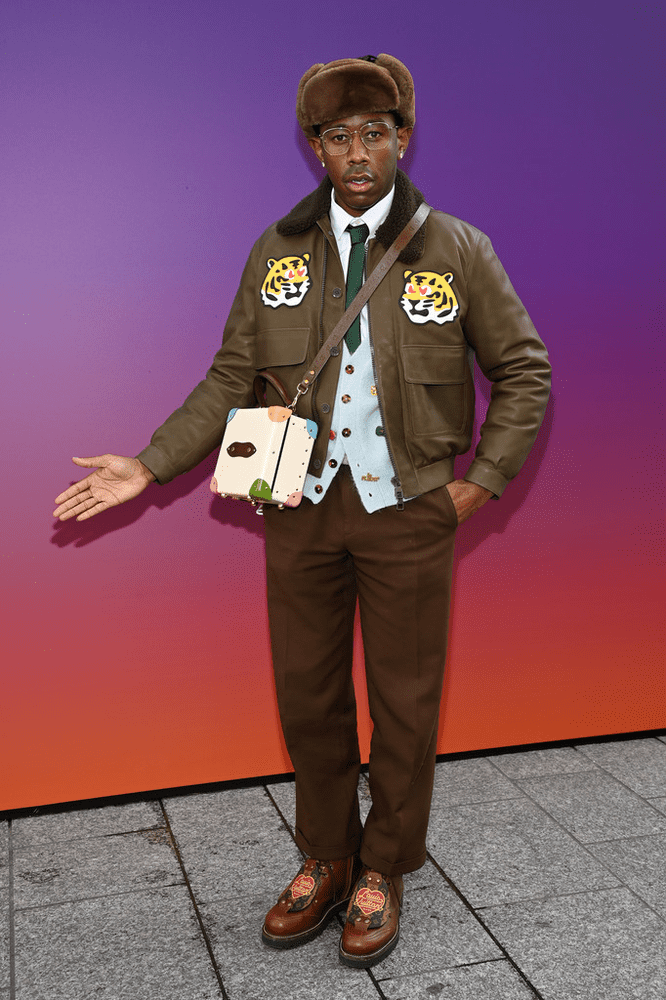 Tyler The Creator at The Louis Vuitton Show
Finally, we have this amazing look that Tyler The Creator put together at the Louis Vuitton Show where he was the creative director. Brown is definitely the color for this look but it goes together all so well. He paired it with a shoulder bag styled as a trunk and a blue cardigan matched with a green tie to add some class if there wasn't enough already.
Summary
Hopefully, by now, you not only have a list of items you need to add to your shopping cart but also some Tyler The Creator outfit ideas. He may be the most fashionable artist among his rap peers right now and for good reason, his classic yet unique style will look good on anybody and will add some class to your wardrobe.