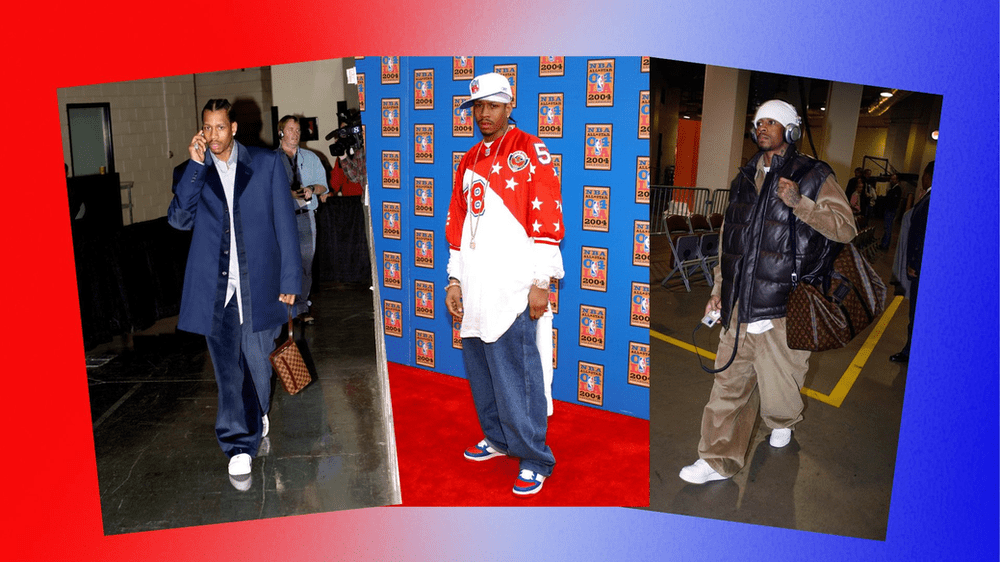 Allen Iverson was one of the most iconic basketball players of all time and his style on the court matched his legendary status. From starter jackets to jerseys, shorts, and more, Iverson always managed to look fresh and stylish while playing. His outfits were a big part of his game and they often made headlines due to their unique ensembles. In this article, we'll take a look at some of the best Allen Iverson outfits throughout his career and what made them so special. So let's get started!
Fur Coat Iverson
Not everyone dares to mix camo jeans, LA Lakers Merch, and a fur coat together. But Allen Iverson did it with ease! He is known for standing out in the crowd – this unique outfit is surely one way of doing that. "The Answer" wasn't scared to show his daring side through fashion choices like these!
All White Birthday Bash
To ring in his 31st birthday, Iverson made an audacious style statement with a head-to-toe white look. His voluminous trousers were paired with an iced-out wristwatch and a classic Boston brim, to match with the timeless Nike Air Force 1s — making this one of his most iconic ensembles to date!
Red Carpet
This look is unmistakably a throwback to 2004! Allen Iverson totally nailed it with his baggy jeans and a swoon-worthy oversized jersey. Paired with the perfect fitted cap and durag, it's the perfect example of a classic A.I. fit!
For When It's Chilly
Allen Iverson is staying warm and fashionable in his all-grey sweatsuit, fur-lined winter coat, Air Force 1s, plus a stylish Louis Vuitton duffle bag to secure his belongings.
2000 Source Hip-Hop Awards
Ahh, the glory days of early 2000s fashion! From head to toe, the East Coast was draped in all-black attire. Timbs and chains were a must, along with money bandanas for good measure. Of course, no look would be complete without a visor flipped upside down and tipped off to one side.
Court Side
Unfortunately, A.I. had to sit this game out — but he showed up in style; rocking a headband and dripping with bling. He topped off his look by carrying around a lollipop as if it were an integral part of his outfit!
Dapper Iverson
Iverson isn't known for rocking suits, but he should be! He came through with this oversized navy blue suit looking ready to drop 50 with ease.
Reppin The 76ers
Allen Iverson is not merely your average 76ers fan; he's an icon in the organization as one of its most prominent players. That said, no amount of notoriety can diminish his enthusiasm for basketball—he was decked out from head to toe with Philadelphia gear with even the Reeboks to match when watching the game!
Pre Game
Beyond his astounding basketball prowess, his off-court style was on point too. He arrived at the game looking sharp in a puffy winter vest, Louis Vuitton Keepall bag, and an iPod to help get himself revved up for tipoff.
Allen Iverson For Kith
Allen Iverson truly owned his role as the face of Kith's recent lookbook. His style was impeccable, particularly when he donned the limited Kith tracksuit!
How You Can Dress Like Allen Iverson
If you want to rock the all-out Allen Iverson look, all you need is a few key pieces. Start with some classic basketball shorts or Baggy Jeans and some Reebok sneakers as a base. Then, add in an oversized jersey, a chain, and accessories like a visor, durag, or headband — now you're ready to complete your A.I. style!
Summary
Allen Iverson's style has inspired many over the years. From classic all-white ensembles to fur coats and even a Kith collaboration, A.I.'s outfits are all unique in their own way. With these looks, we can all channel our inner Allen Iverson and make a statement on the court or street! We hope this article has inspired you to get creative with your own wardrobe. So go out and start putting together the perfect Allen Iverson look today!