Celebrities have long been fans of the luxury brand Chrome Hearts. Celebrities such as Rihanna, Jay-Z, and Kendall Jenner have all been spotted wearing the brand's signature jewelry, sunglasses, and apparel. Here are 20 of the most fashionable celebrities wearing Chrome Hearts.
Rihanna
Rhianna has been rocking Chrome Hearts for years but one of her best moments was when she wore a black Chrome Hearts dress at the Anti album cover and artwork reveal party in 2015. This dress was unique because it featured the Chrome Hearts black-on-black monogram logo throughout the dress.
Jay-Z
Jay-Z is known for his love of luxury brands and for being courtside at Nets basketball games (he was once an owner of the team after all). At the NBA all-star game in 2005, he showed up wearing Chrome Hearts. Rocking a black Chrome Hearts t-shirt and sterling silver jewelry.
Kendall Jenner
Kendall Jenner was seen rocking Chrome Hearts jewelry, leather flared pants, and a cropped tank top at this exclusive sushi dinner party by Nobu in West Hollywood hosted by Jesse Jo Stark (Chrome Hearts Artistic Director) to celebrate the labels boot offering, dubbed Sugar Jones.
Cher
In 1992, Cher one of the most iconic pop singers of all time presented Richard Stark (Founder & Owner of Chrome Hearts) the CFDA Accessories Designer of The Year Award in a full custom Chrome Hearts outfit. Cher has been a long-time supporter of the brand and close friends with Richard Stark.
Dennis Rodman
Dennis Rodman is a former NBA basketball player well-known for winning 5 championships with the Detroit Pistons and Chicago Bulls. He is also infamous for his fashion sense and extreme outfits throughout the years. In 1996, he was seen rocking a Chrome Hearts sterling silver cross necklace and other accessories.
Odell Beckham Jr.
Odell Beckham Jr. is an extremely talented athlete and NFL wide receiver. He is also known to be one of the most stylish players in the league, sometimes causing controversy like when he wore a $2.2 Million Richard Mille during an actual game. Recently he was seen wearing custom Chrome Hearts x Nike Vapor Jet gloves featuring yellow and blue cross patches to represent his current team, the Los Angles Rams. Outside of the playing field, he has also been seen wearing Chrome Hearts hats, denim jeans, jewelry, and more as he is a huge supporter of the luxury brand.
Matt LeBlanc
Known for being Joey in the popular television series "Friends". Matt LeBlanc has been known for flexing his custom Chrome Hearts pieces on the red carpet. Once he even wore a custom Chrome Hearts leather sling to the red carpet in 1996. In this photo, he is seen wearing a Chrome Hearts wallet chain, leather tuxedo vest, and a white button-up dress shirt all featuring custom Chrome Hearts silver buttons and zippers.
Slash
It shouldn't come as a surprise that Chrome Hearts' relationship to rock music is reflected in one of the most legendary guitarists of all time wearing it. Slash wasn't the only Guns N' Roses member who decided to don some unique gear during certain performances for the comeback Not in This Lifetime… tour in 2017. The rocker was seen here rocking a Chrome Hearts x Guns N' Roses T-shirt that was made especially for the tour. Along with a huge cross covered in the skulls famously present on GNR's Appetite for Destruction cover art, this t-shirt had the band's name written in the brand's iconic gothic font across the back shoulders.
Drake
Drake has been a long-time supporter of the popular brand. He has had a custom Chrome Hearts Rolls Royce made for him, a gold & diamond Rolex watch, and he even has his own limited Certified Lover Boy merch made by the luxury brand. In this photo, he is seen to be wearing the rare and highly sought-after Chrome Hearts denim with leather cross patches. These jeans can fetch more than $5k-$10k in the resale market.
Travis Scott
Travis Scott, another popular musical artist has been known to be a fan of the brand. In this photo, he is seen wearing custom brown corduroy patch jeans and a silver wallet chain matched with his very own Nike SB dunks.
Karl Lagerfeld
Karl Lagerfeld was a renowned figure in the fashion world until his death in 2019. While he is most recognized as Chanel's creative director from 1982 to 2019, Karl Lagerfeld was also a big fan of Chrome Hearts. In addition, he nearly always wore a piece of their silver jewelry as part of his regular attire. Rings, necklaces, and sunglasses were all used. He was such a Stark supporter and friend that he made the cover of Chrome Hearts Magazine Series 1 Volume 6, which was released in Japan in 2013.
Kylie Jenner
Kylie Jenner posted this picture online wearing a pair of $15k orange Chrome Hearts patch denim jeans. Kylie has also been seen wearing other Chrome Hearts items such as rings, necklaces, and sunglasses. She even made fashion headlines when had a custom Chrome Hearts baby stroller made for her.
Offset
All of the Migos have been spotted wearing Chrome Hearts but maybe the biggest fan of the brand is Offset. He can be seen here wearing Chrome Hearts Denim with colorful red and green patches with a green Hollywood, USA trucker hat to match. He has also worn a full custom Chrome Hearts custom outfit to the 62nd Grammy Awards.
Bella Hadid
Hadid, a close personal friend of Jesse Jo and the rest of the Stark family, has been wearing Chrome Hearts for years. She's appeared in several advertising campaigns. Since 2017, she's collaborated on several collections with Chrome Hearts that range from sunglasses to mini dresses. She went with a Chrome Hearts black leather dress, matching gloves, and a few silver necklaces for good measure at the launch event for her collection during Paris Fashion Week in 2017.
Lil Baby
Lil Baby is a popular American rapper who has also been seen wearing Chrome Hearts. He was photographed here in 2021 wearing a green Matty Boy x Chrome Hearts Sex Records Long Sleeve shirt and beanie. He paired it with some black skinny jeans and sneakers.
Cardi B
Cardi B performed at Hot 97 Summer Jam in 2021 wearing a custom Chrome Hearts maternity dress and a rare Matty Boy x Chrome Hearts leather jacket. She paired the look with 5 diamond chokers and 14 bracelets for accessories.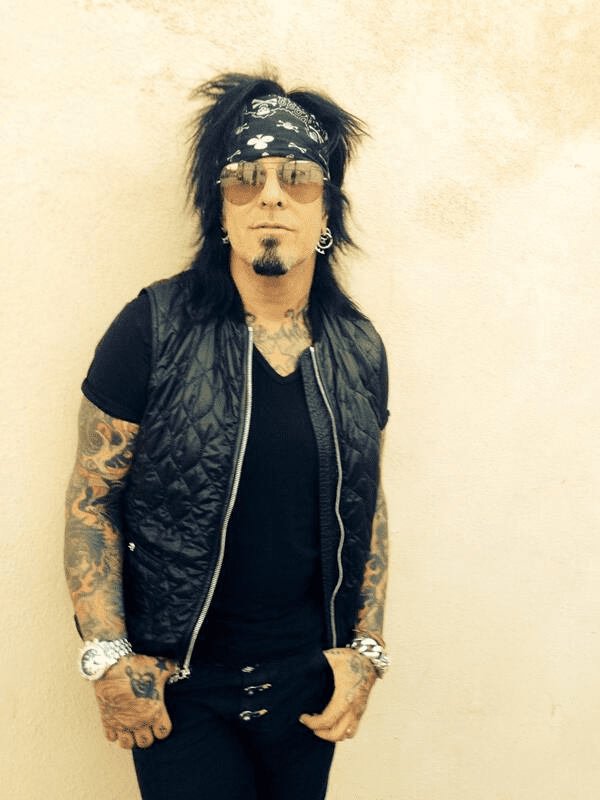 Nikki Six
Nikki Sixx is a legend in the rock world. He's the bassist for Motley Crue and has his own solo project called Sixx:A.M. He's also been seen wearing Chrome Hearts from time to time. Here he is photographed in 2014 wearing a custom-made Chrome Hearts vest. It is well known that he has been friends with the starks family for well over 25 years.
Summary
Celebrities have been known to wear Chrome Hearts, a luxury brand that produces high-end jewelry, clothing, and accessories. Some of the most popular celebrities who have been seen wearing Chrome Hearts include Drake, Travis Scott, Karl Lagerfeld, Kylie Jenner, Offset, Bella Hadid, Lil Baby, Cardi B, and Rhianna. Let us know who your favorite look was down below!