Bucket hats are a great way to protect you from the sun and keep you looking stylish at the same time. Here are ten bucket hat outfit ideas for men that will help you look your best this summer.
Beach Ready Bucket Hat Outfits
Pair your bucket hat with a Hawaiian shirt for a casual, summer look. Top off the look with some sandals for a beach-ready fit or jeans and sneakers for a 90s-inspired ensemble.
Business Savy Bucket Hat Outfit
A bucket hat can add an interesting twist to a classic suit. Keep the look sleek by pairing it with dress shoes, or make it more casual by wearing sneakers instead. G Dragon pulls off a stylish bucket hat outfit that's paired perfectly with a grey suit. A fashion look that's perfect for your business casual inspiration.
Running Errands Bucket Hat Outfit Idea
Russel Westbrook puts together the perfect look for running errands. Jeans, sunglasses, Vans, & headphones paired with a bucket hat. Simple yet stylish!
All White Beach Party
This look from the Spring 2018 Neil Barrett is the perfect example of how to wear an all-white bucket hat outfit. Perfect styling to stand out as the cool one at the beach party.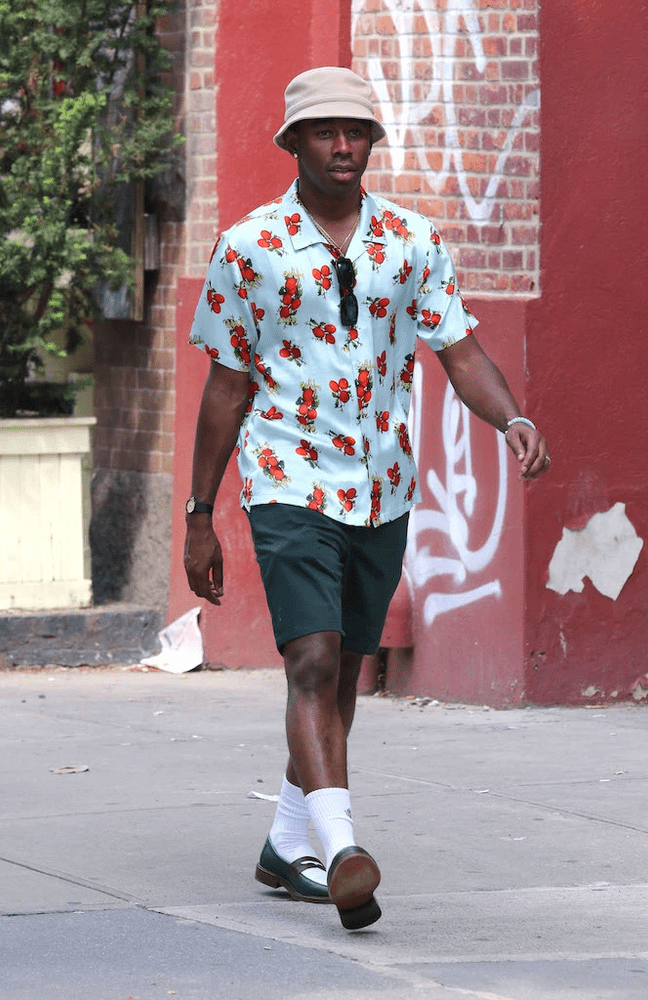 Shorts and Bucket Hats For The Win
For a comfy, streetwear-inspired bucket hat outfit, pair your bucket hat with shorts and a tank top or graphic t-shirt. Finish off the look with some sneakers or sandals and you'll be ready to take on any summer adventures. You can be just as fashionable as Tyler the Creator!
Take a Swim With a Bucket Hat Outfit
Make a bold statement like Lewis Hamilton with an all-over bucket hat look. Throw on some swim trunks, a bucket hat, and sunglasses for this summer's perfect poolside outfit that's swim-ready.
The Colorful Bucket Hat Look
A bucket hat is a fun accessory, so you should make your outfits fun. Matching a bucket hat with bright colors will make you stand out from the crowd as a fashionable man (or women) that turns heads for your wardrobe.
Cold Weather Bucket Hat Ideas
Who says bucket hats are only worn in summer? Show off your bucket hat style in the cooler months by pairing it with a puffer jacket, gloves, and scarf. Perfect for staying warm while looking cool during winter.
The Luxury Look
A bucket hat is no longer just for fishermen, it has become a staple accessory for luxury houses like Celine and Louis Vuitton. Elevate your bucket hat look with one of these designer pieces like this Gunna x Louis Vuitton outfit.
The Fan
Rep your favorite sports team with bucket hats. Pair your bucket hat with a jersey to show off your team spirit in style.
What Do You Wear With a Bucket Hat?
These bucket hat outfit ideas show that bucket hats can be worn in a range of looks. Whether it's shorts and sneakers or a suit, bucket hats can finish off any look with an interesting twist. Try out one of these bucket hat outfit ideas to stand out this season!
Are Bucket Hats In Style For 2023?
Bucket hats have been around since the 1800s and they show no signs of going out of style any time soon. If you want to stay ahead of the trends, bucket hats are a great way to do it. With bucket hats being so versatile, there's no telling what look you can create with bucket hat outfits. Start experimenting now with one of the looks above!
Does Everyone Look Good In a Bucket Hat?
Whether you look good in a bucket hat really depends on your personal style. Everyone has different tastes and bucket hats come in all shapes, sizes, colors, and styles. Experiment with what fits your wardrobe to find the perfect bucket hat for you! Have fun with it! That's the best part about bucket hats – they add an interesting twist to any ensemble. Give it a try and see how you like it!
Bucket Hats Are Here To Stay
Bucket hats are here to stay. Whether it's with a dressy look, streetwear style, or something more casual – bucket hats can be worn in a variety of ways. Try out one of these bucket hat outfit ideas and rock your bucket hat fashion this season!